Bimba Basic 2:1 Air Boosters are designed to amplify inadequate air pressure applications. The unit is a self-contained design of integral valve components that reciprocate pistons to double the output pressure.  Increasing the output pressure will increase the output force of a pneumatic cylinder where space constraints exist.
TRD's combination of a 2:1 ratio air booster and reservoir offers a complete package to take full advantage of boosted pressures.  The booster continuously and automatically fills the reservoir and stops when the boosted pressure is at the maximum setting, providing the volume needed to actuate pneumatic devices requiring higher air flow to meet expected cycle rates.
Hydraulics International gas booster are designed to boost (amplify) the pressure of the same gas (shop air).  These units can increase the pressures 8:1 to as high as 1,250 PSI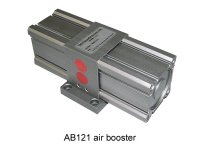 Bimba 2:1 Booster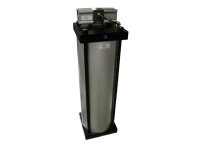 TRD 2:1 Booster w/ Reservoir
.